Yellowstone Elopement Planning Guide [Updated for 2021!]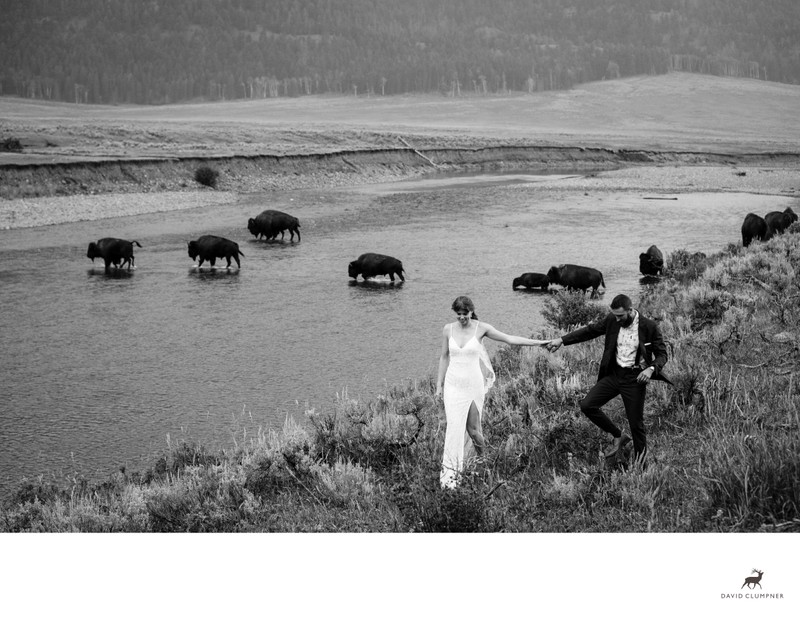 Are you considering an elopement in Yellowstone National Park? If so, you've chosen one of America's greatest treasures in which to get married. The Park comprises 2.2 million acres and lies mostly in Wyoming but also crosses into Montana and Idaho. Yellowstone is famous for its geothermal features, extensive wildlife populations, and Yellowstone Lake. There are five entrances into Yellowstone leading to three major airports that will help you access the Park: Bozeman via the West and North entrances, Billings via the Northeast entrance, and Jackson from the south entrance. There is also an east entrance to Cody, Wyoming.
What Time of Year to Get Married in Yellowstone National Park?
If you're not from the Northern Rockies you might not know which seasons are best for your Yellowstone elopement. The season you choose will have a significant impact on which entrance you will use and how many layers of clothing you need to bring. The roads begin to open for the summer season in late April and remain open until early November. Couples get married in Yellowstone all year long, but the summer months are most popular. Here is an example of a summer wedding in Yellowstone.
Yellowstone gets the bulk of its 4 million annual visitors during the months of July and August. You will likely be spending a few extra days vacationing around Yellowstone during your trip, so if you'd like to see fewer tourists it may be worth looking into June or September dates. It will also be beneficial for booking vendors if you can be flexible with the day of the week in which you elope. Photographers and hair and makeup artists are often booked for larger weddings on Fridays, Saturdays, and Sundays, so you will be more likely to get your favorite vendors if you can have your elopement on a Monday-Thursday.
The North entrance at Gardiner to Mammoth Hot Springs through the Lamar Valley to Cooke City remains open all winter. There are a few great locations along that road if you are considering a winter wedding. There also is a snow coach option into the Old Faithful Snow Lodge in the winter. Here is an example of a winter wedding in Yellowstone.
For more information on what the Park offers throughout the year, see here.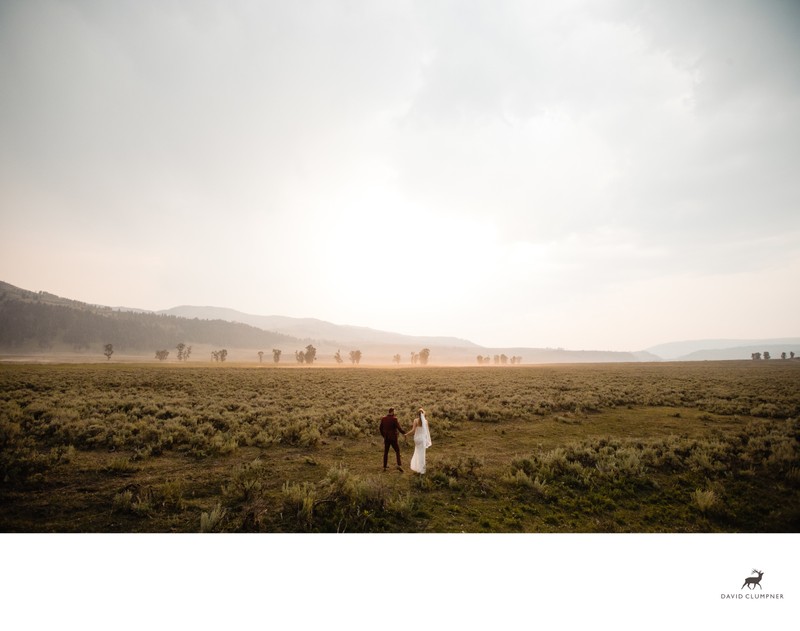 Sunrise or Sunset?
It will be best to avoid holding your Yellowstone elopement during the middle of the day, so you'll have to decide whether to have your ceremony at dawn or dusk. They are both great options. It can be nice to have an afternoon ceremony then work towards sunset as you go to different portrait locations with your photographer. The afternoon could also present some dramatic thunderstorms for your photos. A sunrise ceremony will be cooler temperature-wise, there's a chance of beautiful fog around the rivers, and more wildlife will be out.
Permit and Marriage License
There are two legal requirements to get married inside Yellowstone National Park: a Special Use Permit from the Park and a Marriage License from a neighboring county.
A Special Use Permit costs $75 and must be applied for at least two weeks prior to your ceremony. More information on Park permitting and regulations can be found here. As of 2021, weddings in the Park are limited to ten guests.
If you are getting married at the Mammoth Chapel, you must make a reservation and pay $100 to the Superintendent's office. They can be reached here: (307) 344-2203
Marriage licenses from either Wyoming or Montana are acceptable for use in Yellowstone. A Wyoming license is $30 and can be purchased in Jackson or Cody. A Montana license is $53 and can be purchased in Livingston, Bozeman, or Billings. A Montana license can be purchased in any county and returned to any county. Here are the addresses of the county seats where you can purchase your marriage license:
Jackson, Wyoming
200 S Willow Street
Jackson, WY 83001
(307) 733-4430
Cody, Wyoming
Park County Courthouse
1002 Sheridan Ave. Cody WY 82414
(307) 527-8600
Bozeman, Montana
Law & Justice Center
615 South 16th Room 302
Bozeman, MT 59715
(406) 582-2165
Livingston, Montana
414 E. Callender Street, Room #106 (upstairs)
Livingston, MT 59047
(406) 222-4125
Billings, Montana
217 N 27th Street
Billings, MT 59107
(406) 256-2995


Yellowstone Wedding Locations
Yellowstone is huge and offers many potential locations to have your wedding. Popular sites include Mammoth Chapel, Yellowstone Falls, and Old Faithful, but if you have a favorite spot the permitting office may be open to your idea, particularly if there is parking and you're having your ceremony during off hours. Note: wedding ceremonies are limited to within a half-mile of a road.
Mammoth Chapel
This is the most popular place for weddings and elopements in Yellowstone National Park. The chapel can support a pretty large wedding, or just the two of you. Services are located close by at Mammoth Hot Springs Hotel and just outside the park in Gardiner. I also have a few gorgeous outdoor locations near the hot springs that are secluded but have expansive views.
Lamar Valley
One of the remotest places in Yellowstone, Lamar Valley is famous for its plentiful wildlife. You're almost guaranteed to find herds of bison here and maybe lucky enough to see the resident wolf pack. This is a nice place for a winter elopement, as the road is kept open year round from Mammoth to Cooke City, Montana. Check with the permitting office on locations for summer ceremonies, as parking can be an issue during the busy months.
Artist Point/Yellowstone Falls
One of the most photographed views in the Park, Artist Point's view of Yellowstone Falls is simply magnificent. This is also a popular site with the general public, so you may face restrictions in terms of group size or time of day. This is definitely a location you would want to schedule your ceremony to be at sunrise or sunset. It's also suggested that you carpool if you have more than four guests. If you'd like Yellowstone Falls to really be roaring, be sure to schedule your elopement during the melt off season in May or June.
Old Faithful
Perhaps the prize of America's National Park System, Old Faithful is a geyser that erupts 130' in the air around 20 times each day. Being one of the most famous landmarks in the country, Old Faithful receives a lot of visitors so expect to have tourists around if you have your wedding here. There is a designated spot for elopements, or weddings up to 40 guests. A nice bonus to having your wedding here is that you can stay within walking distance at the Old Faithful Lodge.
Your Own Location
Yellowstone has over 250 miles of roads and many potential locations for your elopement. This will be even easier if your wedding party is small, as parking won't become an issue. Some potential locations to consider would be the Lamar Valley, anywhere along the Yellowstone River (particularly at sunrise), Yellowstone Lake, or the Firehole River.


Places to Stay
Unique to Yellowstone is the large number of lodging options within the Park. On the north side of the park are Mammoth Hot Springs Lodge and Roosevelt Lodge and Cabins at Tower Junction, as well as many more options just outside the entrance in Gardiner and Paradise Valley (I love Chico Hot Springs or Sage Lodge!). Near Lamar Valley would be private options in Cooke City, MT, though you can also drive here easily from Mammoth and Gardiner. Along the east side of the park there is the Canyon Lodge and Cabins (near Artist Point), Lake Yellowstone Hotel, Grant Village, and Lake Lodge Cabins. Along the west side of the park is the Old Faithful Inn or many options in West Yellowstone.
There are numerous campgrounds throughout Yellowstone National Park, as well.
Most accommodations in or near the Park will require reservations, so plan ahead!
Photography Packages
I am based in Montana and spend my summers photographing the western half of the state between Glacier and Yellowstone. I photograph many elopements in Yellowstone each year during all seasons and can help with ceremony site selection, officiant and other vendor recommendations, and navigating the permit process. My photography packages for elopements include travel, accommodations, my National Park Commercial Use Authorization, and taxes.
Elopement Pricing:
-Four hours of coverage
-Travel included
-Online gallery of edited photos with download access and personal printing rights
Yellowstone Elopements: $2450