Grand Teton Elopement Planning Guide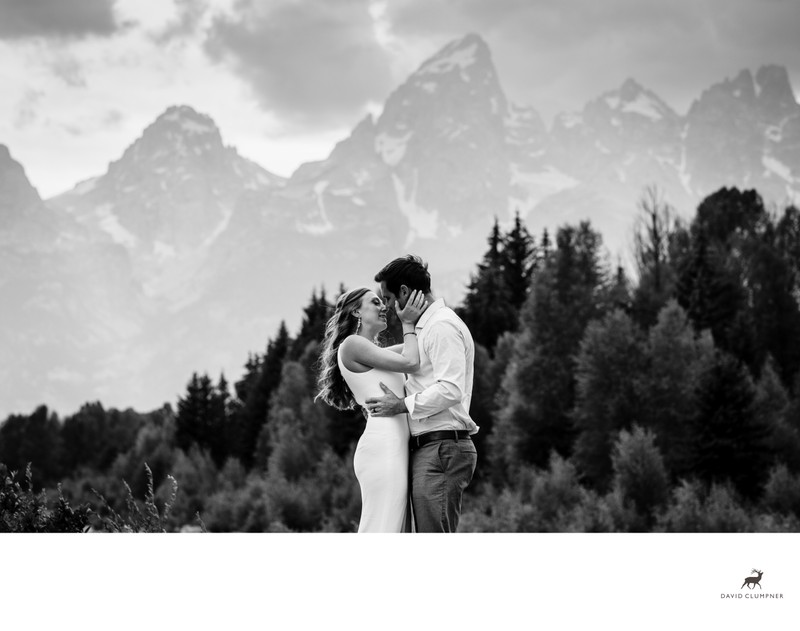 Are you considering an elopement in Grand Teton National Park? If so, you've chosen to get married in front of one of America's most stunning backdrops. Here's how to do it:
1. Pick Your Date
Grand Teton National Park is open year-round, so you can get married in the Tetons in any season. If you are having a small wedding or elopement you may consider a weekday as the Park will be a little less busy and many vendors will have full weddings booked on weekends.
Summer is warm and incredibly beautiful in the Tetons. I recommend a morning or evening ceremony for better light and cooler temperatures as well as to avoid the midday crowds. In busy fire years the Park can be a little smokey later in August and September.
Winter is your time if you want a snowy elopement or you like winter sports. The Tetons are magnificent when covered in snow. While the temperatures can be cold, we can hop in and out of the car along the well-maintained road system to get you fantastic photos in front of the snow-capped, jagged mountains.
Spring is gorgeous in the Tetons, as everything is green and if your timing is right, balsam root flowers will paint the meadows yellow. We might even get a little snow if we're lucky!
If you love all the seasons and aren't sure which is the best fit for the two of you, feel free to reach out for suggestions.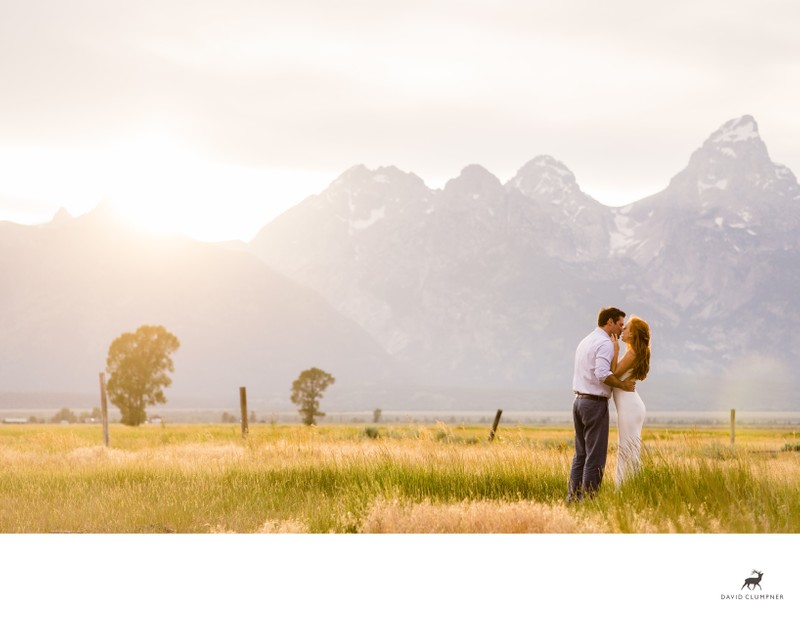 2. Hire Your Photographer
When choosing your photographer think about what kind of images you'd like your grandchildren to see from your day. I believe that a natural, documentary approach produces photos that best represent who the two of you are. Also make sure that your photographer has experience photographing in the Park and can offer advice on timing and locations, as well as secret spots for great portraits. The best photographers will book up well in advance so if you have your heart set on a certain photographer, reach out to them to coordinate your date around their schedule.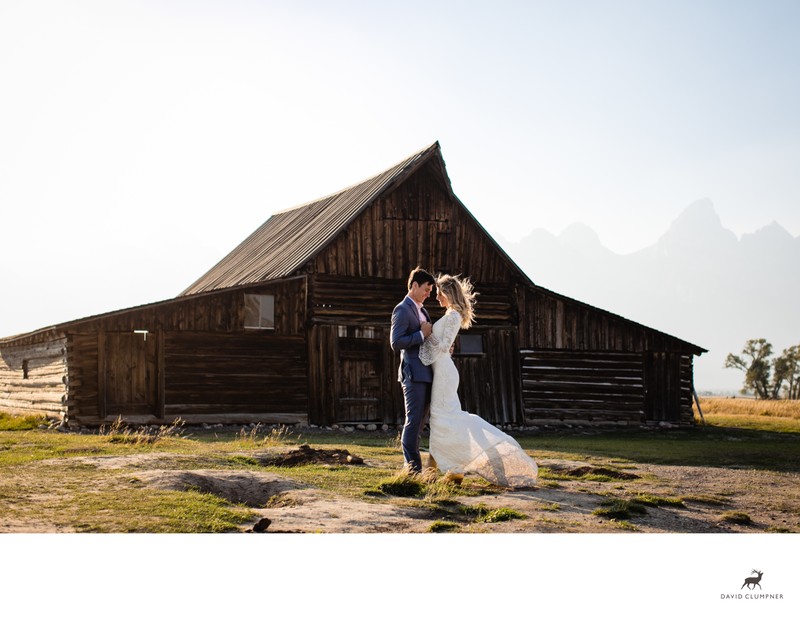 3. Secure Your Permits and Book Your Officiant
You will need two permits for a Grand Teton National Park wedding: a park permit and a Wyoming marriage license.
The park permit is $200 and needs to be secured at least two weeks prior to your wedding day. All the information you need for your park permit can be found at this link. The application will ask where you'd like to have your wedding ceremony. Some locations, like Schwabacher Landing and Colter Bay, are very busy so you'll want to reserve as soon as possible. If you don't already have a site in mind, check with your photographer for some suggestions.
Your Wyoming marriage license needs to be obtained in person on a weekday prior to your ceremony, but it's easy. Go here for everything you will need. This page conveniently also offers a list of local officiants.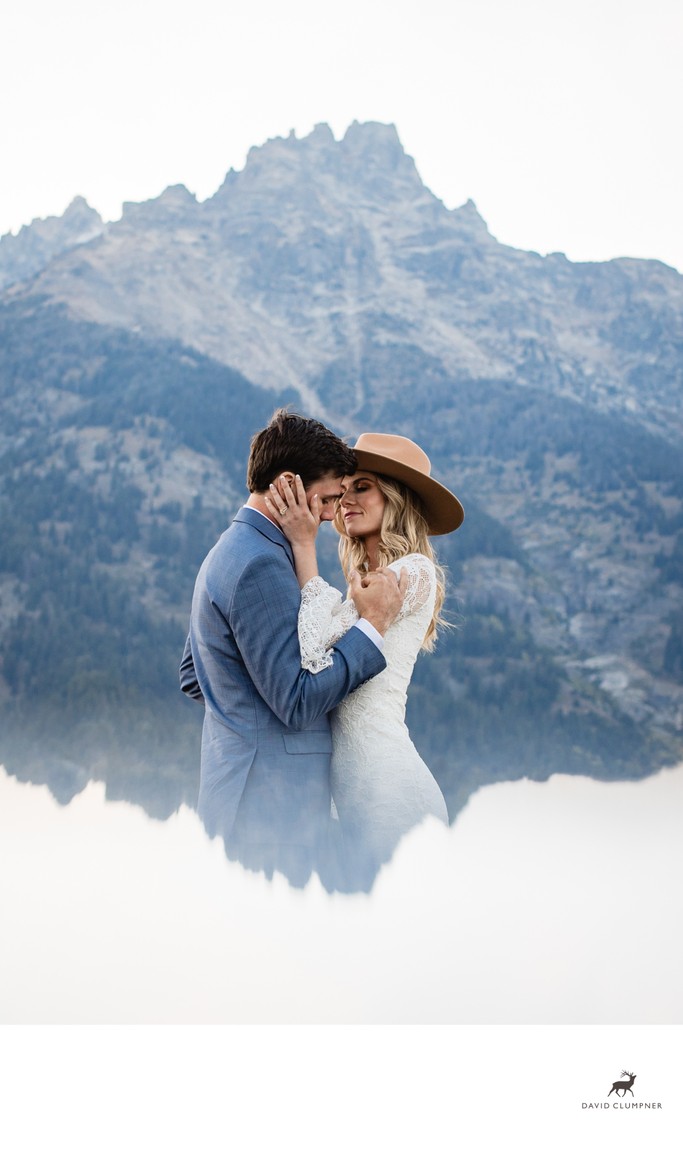 4. Book Your Travel
If you are coming and going from the Tetons, you'll fly into Jackson Hole Airport (JAC) in Jackson, Wyoming. If you have a few extra days you may consider adding some time in Yellowstone National Park, which is just north of Grand Teton. If Yellowstone will be part of your trip, flying into or out of Bozeman is also an option.
There are many lodging options in and around Grand Teton Park, including camping and Airbnbs, but these hotels are some of my favorites:
There are also beautiful lodge options within the Park.
Most accommodations in or near the Park will require reservations so plan as far ahead as possible.
Photography Packages
I am based in the northern Rockies and spend my summers photographing all over Montana, Wyoming, and Idaho. I photograph many elopements in Grand Teton and Yellowstone each year during all seasons and can help with ceremony site selection, vendor recommendations, and navigating the permit process. I specialize in a candid, documentary style, so if you want to have a fun and easy-going elopement, I might be a good fit. My photography packages for elopements include travel and accommodations.
Elopement Pricing:
-Four hours of coverage
-Travel included
-Online gallery of edited photos with download access and personal printing rights
Grand Teton Elopements: $3250